CCBER - Other Projects & Activities
The Cheadle Center for Biodiversity and Ecological Restoration hosts a number of classes, workshops, symposia and speakers throughout the year related to our mission of conservation, ecological restoration and natural history collections.
Our Conservation and Restoration Ecology Seminar is a course for students in EEMB/ES departments and a topical seminar series open to anyone interested in these topics. The course and series is curated and taught by Lisa Stratton, the CCBER Director of Ecosystem Management. Dr. Stratton has over 20 years of experience in regional conservation and restoration programs, and runs an internship program at CCBER that incorporates over 75 undergraduate students every year. Each academic quarter she curates a series of speakers around a certain topic. Last year those were:
Fall 2017 - Goleta Beach and Slough Mouth Conservation and Management Challenges
October 2nd – Lisa Stratton: Introduction to Goleta Slough and Goleta Beach     Topics, Course overview, student research topics

October 9th – Dave Hubbard, Marine Science Inst. Ecological Effects of Shoreline Management

October 16th – Dan Gira, Consultant.  History of County Land Use Planning and Management work for Goleta Beach Park to present

October 23rd – Everett Lipman – Surfrider & UCSB academic. Science, Politics, and Coastal Armoring at Goleta Beach Park

October 30th – Bob Battalio – ESA.  Wave dynamics, Coastal Processes and sustainable alternatives to rock revetment at Goleta Beach Park

November 6th – Dave Revell- Revell Coastal.  History of Local coastal geomorphology,  beach dynamics and sea level rise and how those processes inform long term planning for Goleta Beach Park

November 13th – Rachel Couch and Lisa Stratton – Moderate a discussion among students about issues and alternatives for managing Goleta Beach Park

November 20th – Pat Saley – Planner, consultant.   Overview on Goleta Slough Management and Restoration work within airport context.

November 27th – John Davis, Colby Boggs, Dave Compton, consultants.  In depth look at the complexity of Goleta Slough Mouth Management Issues and Data

December 4th – Student papers submitted and possible presentations.
Spring 2018 - Soil Geology and Ecology: Understanding the development and importance of soils to local ecology
April 2nd - Lisa Stratton (UCSB): Introduction and CCBER's experience with Soils and Coastal Restoration

April 9 - Oliver Chadwick (UCSB) - Soil morphogenesis: From geology to soil formation

April 16 – Derek Booth & Stephanie Moret – (Stillwater & UCSB) - Local soils and geology: History and function vis a vis hydrology and plant communities.

April 23 - Roger Resentreter (BLM)- Ecological Function of Soil Biocrusts and their identification

April 30- Jeff Newton (Founder/CEO: Coastal Vineyard Care Assoc.)- Local Soils and Viticulture: Soil Impact on Santa Barbara County Wine

May 7th – Vic Claassen (UC Davis) – Assessing and Restoring soil function to degraded soils

May 14 – Josh Schimel – The role of Soil Microbes in Soil Function

May 21 – Carla D'Antonio (UCSB) – Soil-Plant interactions: Influence goes both ways

June 4th – Student Presentations/Discussion
North Campus Open Space (NCOS): CCBER has been a key player in the planning, grant writing and implementation of the 136-acre North Campus Open Space Restoration project. The NCOS project provides our community with access to an expanse of coastal open space that extends 2.25 miles along the Ellwood-Devereux coast. The site connects several existing preserved properties, including UCSB's South Parcel, Coal Oil Point Reserve, as well as the City of Goleta's Sperling Preserve at Ellwood Mesa.   Restoration construction began in April 2017 and planting began in September 2017. The Marsh Trail, adjacent to the wetlands will open October 2018 and includes ADA accessible boardwalks and bridges for public access and passive recreation.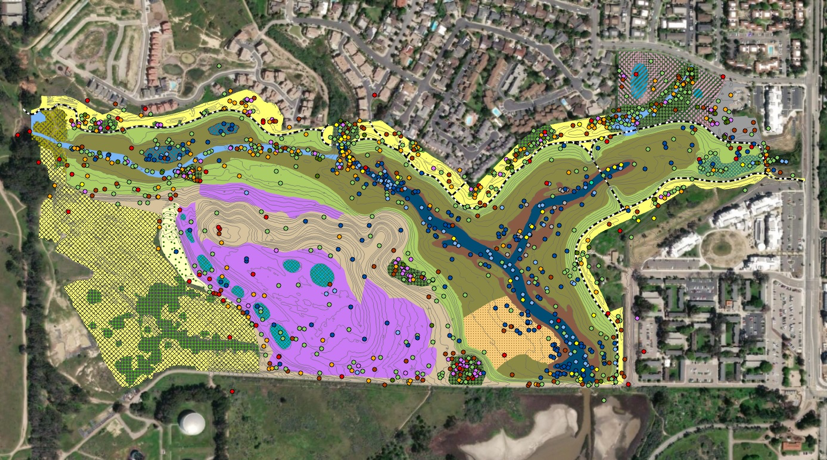 - NCOS bird survey results (https://www.ccber.ucsb.edu/news-events/keeping-tabs-ncos-birdlife)
This property supports teaching, research, and community outreach. Restoration and preservation of wetlands and other habitat along Devereux Creek is in progress. The CCBER Director for Ecosystem Management, Lisa Stratton, has been involved in preliminary research that was used in the preparation of a restoration plan for the land in order to provide guidance in such things as local plants, soil types, and habitat creation.  Additionally, Dr. Stratton has led extensive grant writing activities and raised approximately $15M towards the planning and implementation tasks, baseline ecological studies, and restoration.  Campus partners involved in the comprehensive planning include the North Campus Open Space Science Advisory Committee composed of faculty from ERI, EEMB, Earth Science and Bren; Facilities Management Design and Construction Services, Office of Research, and Budget and Planning.  CCBER has involved a multitude of students and staff in the project to date.  Groundbreaking was held on April 26, 2017. Construction grading began in April and bridge and trail construction was completed in June 2018.
As of June 30, 2018, our funding partners include the State Coastal Conservancy and the U.S. Fish and Wildlife Service, to plan for the restoration of the former Ocean Meadows golf course to its natural state. Additional funding for the restoration has been secured from our partners, the Wildlife Conservation Board, the California Natural Resources Agency and the Department of Water Resources, through their granting programs (Urban Greening and Urban Streams, respectively), and from the California Department of Fish and Wildlife for Greenhouse Gas Sequestration using Cap and Trade funds and Proposition 1 funds. Additional Proposition 1 grants have been awarded by the State Coastal Conservancy and the Ocean Protection Council. CalTrans has provided funding for restoration through the Environmental Enhancement and Mitigation Program and for public access through the Alternative Transportation Program. A recent grant from California State Parks was awarded in June 2018. Additional funders include the City of Santa Barbara, The County of Santa Barbara (Flood Control Division and the County Resource Enhancement Fund), Goleta West Sanitary District, Wetlands Recovery Project and several private donors.  The Trust for Public Land purchased 64 acres of the now-closed Goleta course with $7 million of grant funding from several federal, state, and local agencies. The organization subsequently gifted the property to The Regents of the University of California, which will serve as the long-term steward of the open space.
Current fundraising efforts are focused on raising an endowment to support the long term management of the site and to support CCBER's student research and training mentorship programs and Kids in Nature outreach to K-12 classrooms on the site.
Cheadle Center Biodiversity Workshops
The UCSB Natural History Collections at CCBER are focused on research in museum bioinformatics and collections-based fauna and floristic research focused on systematics, biodiversity data science and conservation. Every year, the UCSB Natural History Collections at CCBER develops training opportunities and workshops for our many stakeholders. They are attended by staff, students, consultants, and natural history museum managers, curators and researchers.
This year CCBER staff taught and organized a Software Carpentry workshop May 4-5, 2018 along with EEMB graduate students and post-doctoral researchers Umi Hoshijima, Corinne Fuchs and Graziella DiRenzo. Software Carpentry are hands-on workshops that cover the core skills needed to be a good researcher. This workshop focused on an Introduction to R, databases, and how to version code and data (https://goo.gl/4J5KVE).
Ecology and identification of soil biocrusts (April 21 – 22) was held at the Cheadle Center and taught by Roger Rosentreter, Ph.D. Dr. Rosentreter is a who is a biocrust specialist who worked as a botanist for the Bureau of Land Managment for 35 years. The focus of this workshop is the identification of biocrusts constituent parts (lichens, algae, etc.), the structure and formation of biocrusts, ecological functions and effects on soil stability, and responses to disturbance of soil crusts.
Marine Algae of the Santa Barbara Coast and Channel Islands workshop (November 18, 2017). This one-day workshop at the Cheadle Center was conducted by Dr. Kathy Ann Miller, Ph.D. from U.C. Berkeley and students learned to identify and prepare the common seaweeds of the Santa Barbara Coast.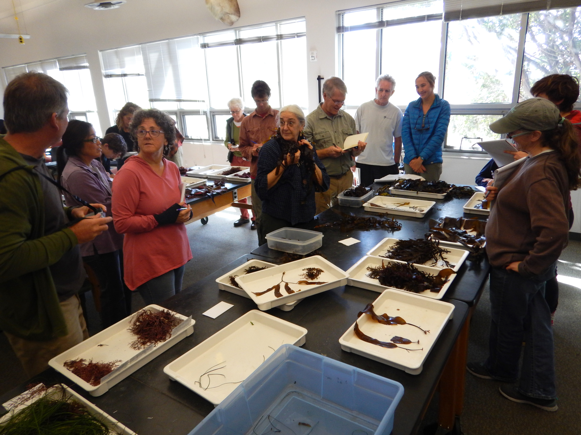 - Dr. Kathy Ann Miller teaching the one day seaweed workshop (https://ccber.ucsb.edu/news-events/introducing-ccber-workshop-series)
Research Area: Endangered Species – The Nipomo Lupine Project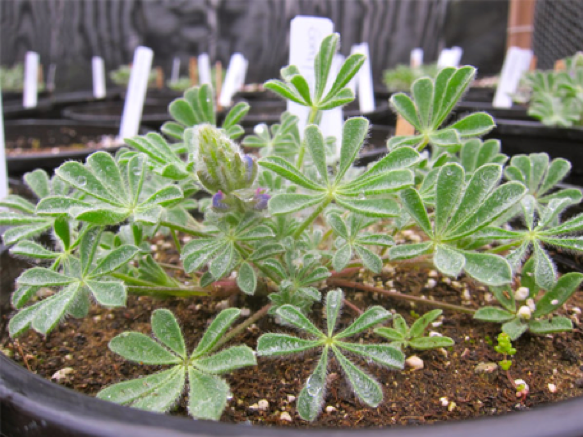 The Nipomo Mesa Lupine (Lupinus nipomensis) is a federally endangered annual species of lupine endemic to California. This species lives in our coastal dune habitats and it has been pushed out by habitat loss and invasive plant species. CCBER is a natural partner to work on the conservation of endangered California plants because of our experience and expertiese growing native plants for campus restoration projects. Our restoration sites contain several species that are listed as special concern, including the Coulter's saltbush (Atriplex coulteri) and Southern tarplant (Centromadia parryi ssp. australis). Thoughout the year, we conducted several research projects that included outplanting of the species to new locations, and pollinator and herbivore studies. We grew the plants at the CCBER greenhouse in order to bulk up the supply of their seeds. Seed bulking is done to preserve the plants by generating enough seed for outplanting, or for emergency storage, just in case the present populations are extirpated. The hope is that through understanding what the Nipomo lupine needs to survive, the plant can successfully be grown in other locations besides the few populations where it now lives. This work has been accomplished with a contract from the US Fish and Wildlife Service, and the project has involved many UCSB students in the research. Find out more about the Nipomo Lupine project and other plant conservation research at CCBER (https://www.ccber.ucsb.edu/research-areas).
Research Area: Insects of Coastal California
California dune, coastal sage and chaparral are home to many unique and endemic insects and other arthropods. Cheadle Center­ biologists are interested in understanding this biodiversity, examining the evolution of very diverse species, and estimating the diversity of insects in human disturbed habitats. Many of these insects are important to humans, such as pollinators and pest species, while others help us explore fundamental evolutionary questions and the effects that human disturbance on biological systems. CCBER maintains a regular sampling program around UCSB and has a regionally focused insect collection for research voucher specimens. We teach classes and workshops in entomology and insect identification, and support a research program. This year we supported 2 graduate students and over 30 undergraduates with 4 major projects around the drivers of diversity of insects in California. These projects focused on ladybug (Coccinellidae) diversity in disturbed systems, the discovery of new species of Ophioninae (Ichneumonidae, Hymenoptera), and historic and recent inventories of coastal California insects including native bees.
The UCSB Invertebrate Zoology Collection is supported by a grant from the Institute of Museum and Library Services to curate and database a collection of historic insect specimens that represent some of the only known older insect specimens from this area. This funding is critical for curating our regional synoptic collection for specimen identification, which in turn supports education and research. The historic specimens are also important for understanding biodiversity as many insects are rarely collected, and some may be locally extinct.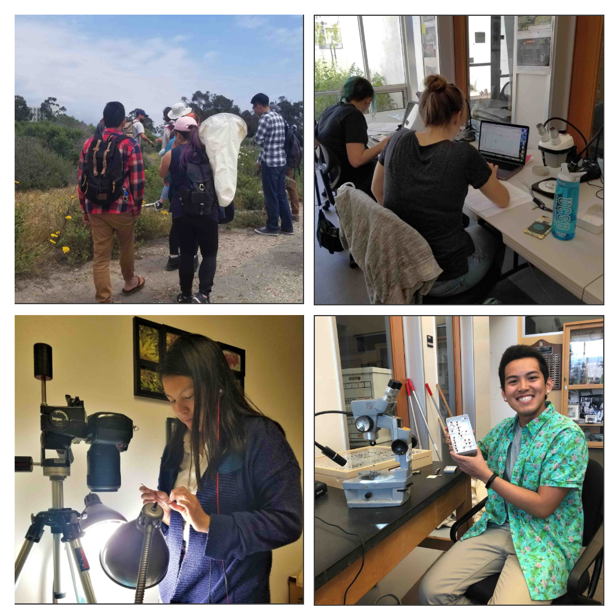 - Undergraduate interns working at the UCSB Invertebrate Zoology collection
CCBER Restoration Team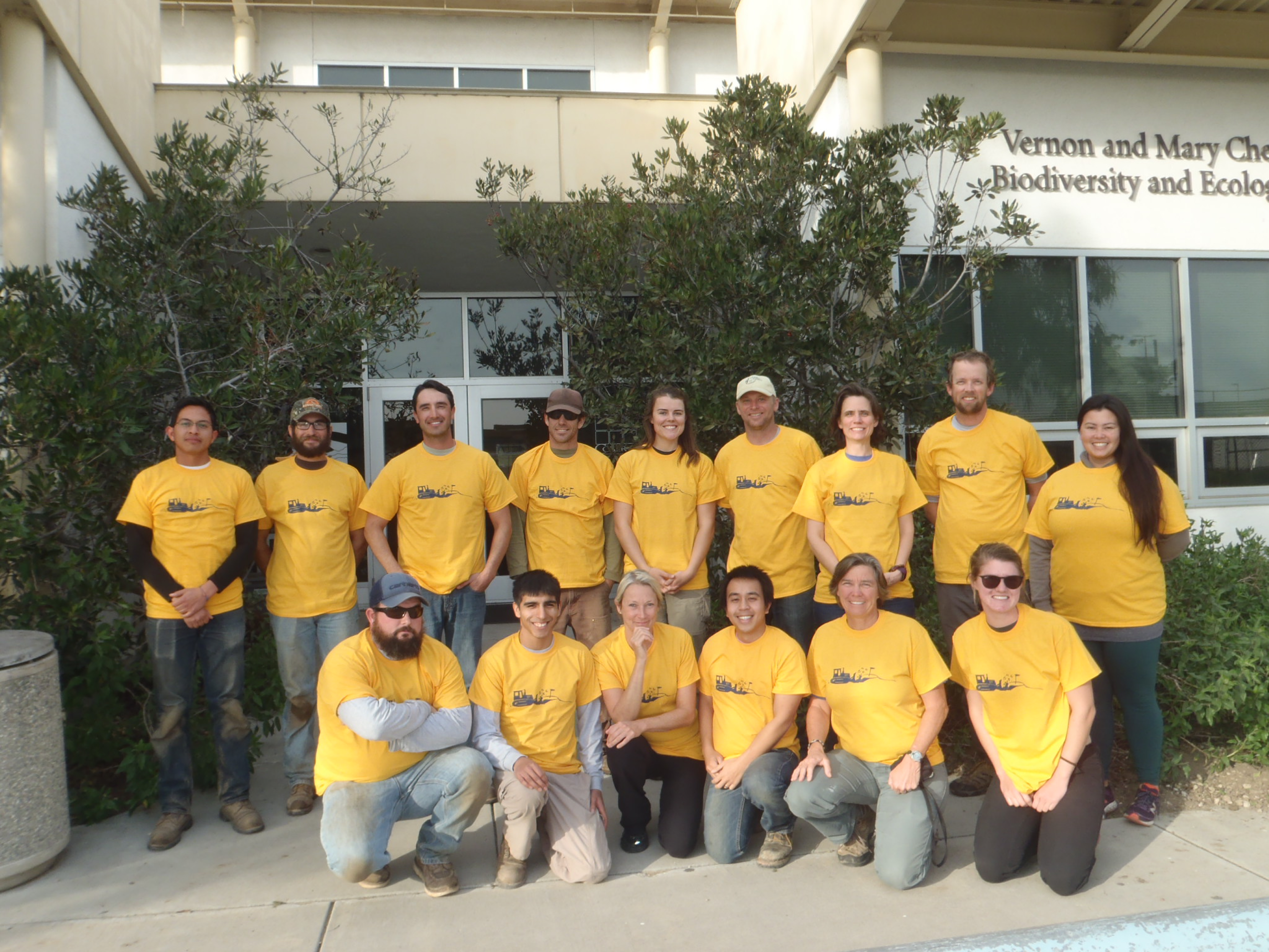 Wearing North Campus Open Space Restoration Team shirts funded by a generous donation from Carol Geer, the CCBER Team is ready to bring back our region's natural heritage and make it available for research, education and enjoyment.
Credit: Rachel Behm