Other Projects and Activities
Research Experiences for Students:
Research education is a key component of ERI's mission.  This fiscal year, ERI supported 78 graduate student researchers and 139 undergraduate students.  The students were involved in a wide range of projects.  Undergraduates have been involved in the NASA-funded Plumes and Blooms project, taking part in one-day optical oceanography cruises in the Santa Barbara Channel.  The Center for the Environmental Implications of Nanotechnology (CEIN) has included multiple students in their research efforts. Many students took classes, interned, or were employed by the Cheadle Center for Biodiversity and Ecological Restoration (CCBER) learning restoration and management skills, natural history collection management, and K-12 science education. The Research Abstracts (http://annual-reports.eri.ucsb.edu/2015-2016/research-summaries) demonstrate the span of research involvement by students.
K-12 Outreach Activities:
Kids in Nature:
The mission of the Kids in Nature Environmental Education (KIN) program is to promote the aspirations and achievements of students in underserved schools by providing quality environmental science education. To achieve this goal, CCBER recruits and trains undergraduates for careers in K-12 science education, provide professional development opportunities for teachers who have inadequate undergraduate preparation in science and who lack the resources for teaching science content in the classroom, and for both students and teachers, we create and encourage personal connections to the natural world, which will foster an interest in becoming stewards of the environment.
Program Description
While many programs are designed to offer educational experiences for several hours or for one day, the KIN program provides each classroom with a total of twelve educational activities offered with our partners, the Marine Science Institute's REEF program, Coal Oil Point Reserve, Santa Barbara Botanic Garden and Arroyo Hondo Preserve. The fifth grade students work closely with the KIN staff and UCSB students enrolled in EEMB189/ES191 in an outdoor setting and gain firsthand experience with the concepts they learn in class for an in-depth and sustained educational experience. KIN curriculum emphasizes hands-on, placed based activities in outdoor environments  and also includes classroom visits where UCSB students mentor and assist with the fifth grade student work and activities in the established native plant gardens on the elementary school campuses.
During the yearlong program, we estimate that each KIN student experiences approximately 100 hours of small group education. KIN has a significant impact on the students' understanding, involvement in, and awareness of environmental issues through engaging and challenging activities and positive interactions with scientists, graduate and undergraduate students both in class and in the field.  KIN students spend a significant amount of time on the UCSB campus, which helps to demystify the university and provides the students with opportunities to learn about programs and the campus environment. Each 5th grade student receives a Kids in Nature Science Notebook and Nature Journal, which contains additional information and activities to accompany each fieldtrip. There is also a teacher version of the journal available, which includes the Next Generation Science Standards that correspond with each chapter.
Other CCBER Activities:
Community Outreach: Nature Saturdays at North Campus Open Space.  July 4, 2015, Water: Learn about the importance of water in the local environment and how you can help to conserve this resource. 
Establishing a Regional Natural History Collection and Data Network for South Central California. Workshop February 1, 2016 - organizer/speaker Katja Seltmann, Mireia Beas-Moix.
Software Carpentry Workshop -  April 14-15, 2016 - organizer/speaker Katja Seltmann.
North Campus Open Space (NCOS):  CCBER has been a key player in both the planning and the efforts to raise funds for the implementation of the 136-acre North Campus Open Space Restoration project. The NCOS project provides our community with access to an expanse of coastal open space that extends 2.25 miles along the Ellwood-Devereux coast. The site connects several existing preserved properties, including UCSB's South Parcel, Coal Oil Point Reserve, as well as the City of Goleta's Sperling Preserve at Ellwood Mesa.  After restoration, the NCOS site will feature natural open space, trails, and boardwalks for public access and passive recreation.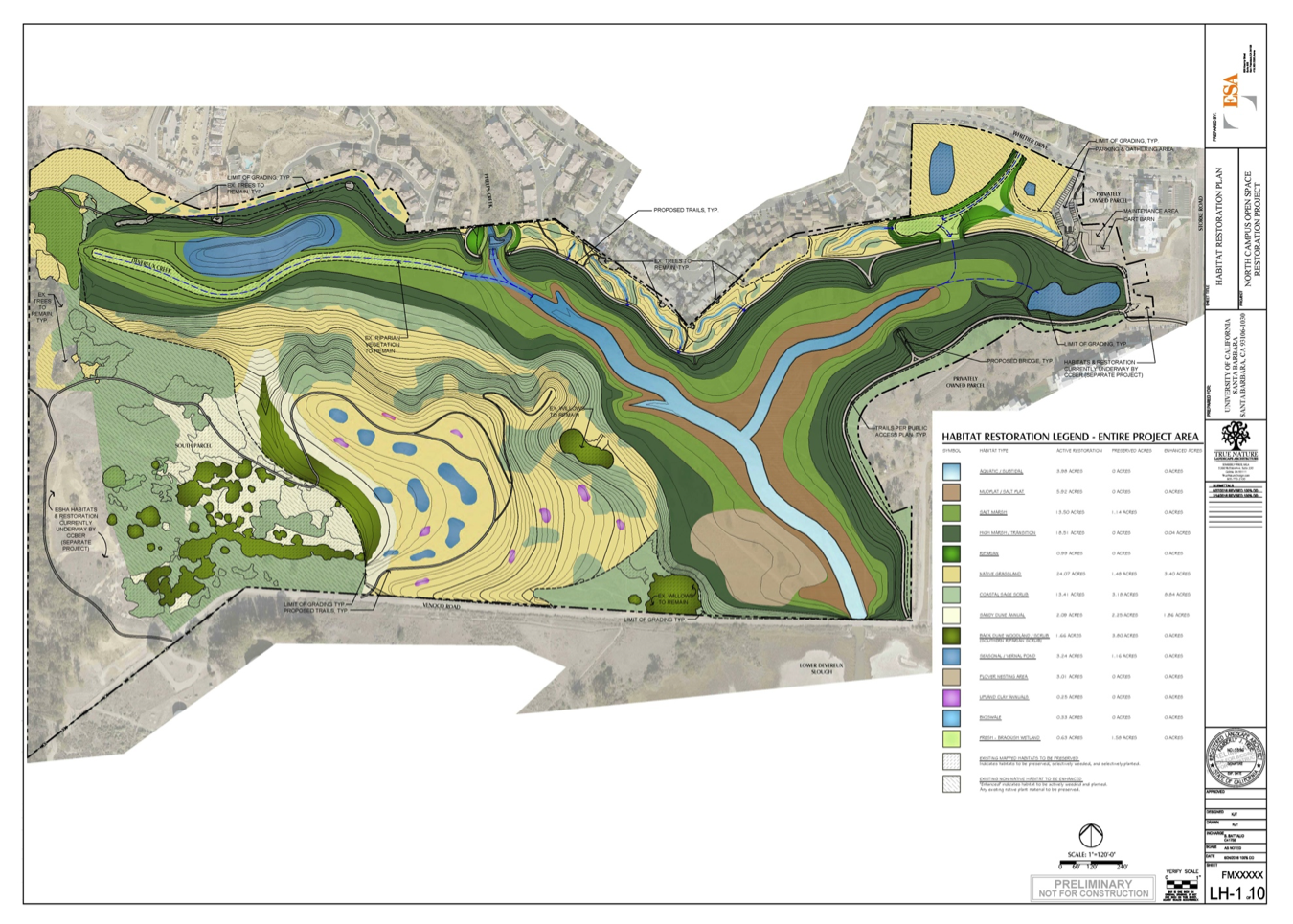 This property will allow for teaching, research, and community outreach. Restoration and preservation of wetlands and other habitat along Devereux Creek will also be a primary focus for the property. The CCBER Director for Ecosystem Management, Lisa Stratton, has been involved in preliminary research that was used in the preparation of a restoration plan for the land in order to provide guidance in such things as local plants, soil types, and habitat creation.  Additionally, Dr. Stratton has led extensive grant writing activities aimed at raising approximately $15M towards the planning and implementation tasks, baseline ecological studies, and restoration.  Campus partners involved in the comprehensive planning include the North Campus Open Space Science Advisory Committee composed of faculty from ERI, EEMB, Earth Science and Bren; Facilities Management Design and Construction Services, Office of Research, and Budget and Planning.  CCBER has involved a multitude of students and staff in the project to date.  Groundbreaking is currently scheduled for October 2016.
As of June 30, 2016, our funding partners include the State Coastal Conservancy and the U.S. Fish and Wildlife Service, to plan for the restoration of the former Ocean Meadows golf course to its natural state. Additional funding for the restoration has been secured from our partners, the California Natural Resources Agency and the Department of Water Resources, through their granting programs (Urban Greening and Urban Streams, respectively), and from the California Department of Fish and Wildlife for Greenhouse Gas Sequestration using Cap and Trade funds. The Trust for Public Land purchased 64 acres of the now-closed Goleta course with $7 million of grant funding from several federal, state, and local agencies. The organization subsequently gifted the property to The Regents of the University of California, which will serve as the long-term steward of the open space.