Directors Statement 2010-2011
I am pleased to report that our first year as a new organized research unit (ORU) was a rousing success.  The merger of the Institute for Crustal Studies and the Institute for Computational Earth System Science into the new Earth Research Institute (ERI) required a great deal of effort on the part of all participants.  That said, ERI is a stronger and more vibrant research unit than the sum of its parts.  The strong participation of our investigators has led to the creation of our new mission of "Supporting research and education in the sciences of our solid, fluid, and living Earth" and the articulation of our mission statement into the academic emphases of:
Earth System Science: Earth's subsystems and their interactions
Earth Evolution: Rate and causes of change in Earth tectonics, climate & biota
Natural Hazards: Impacts of Earth processes on society: earthquakes, volcanic eruptions, landslides, floods, drought, etc.
Human Impacts: Impacts of mankind on the Earth: pollution assessment & remediation to biodiversity conservation & resource management to anthropogenic climate change.
Some examples of the research within these emphases are Charles Jones and Leila Carvalho's examination of extreme weather events increasing the likelihood of flash floods and landslides, which increase the potential of human fatalities, injuries and property losses; Jeff Dozier's research looking at snow water equivalent, impacting both avalanche forecasting and watershed (water availability); Bodo Bookhagen and Doug Burbank's research into the Himalayan glacial retreat and advance that aids in predicting river discharge in the Himalaya through examining rainfall and snowmelt contribution to water availability; Bruce Luyendyk and Doug Wilson's research into the evolution of the West Antarctic Ice Sheet with the goal of understanding the "greenhouse" – "icehouse" global climate transition of 34 million years ago; Jamie Steidl's earthquake work focusing on the validation and calibration of computer simulations of site response and nonlinear dynamic soil behavior; work within the Center for the Environmental Implications of Nanotechnology (CEIN) by Patricia Holden looking at the Biomagnification of CdSe Quantum Dots in Food Webs; and the efforts of Joe McFadden and Jennifer King to examine the carbon, nitrogen, and phosphorus fluxes through urban ecosystems.  The research efforts within ERI are diverse and are participants include faculty and researchers from departments across campus, including the Bren School, EEMB, Earth Science, Geography, MSI/NCEAS, Chemistry/Chemical Engineering, Computer Science, Economics, Environmental Studies, the Library, and Physics. Additional examples of research efforts in each of these areas may be found on our website (please see http://www.eri.ucsb.edu/adminstrative/research_awards for active projects).  
In terms of extramural funding, ERI demonstrated strong growth during our first official year, receiving extramural funding of close to $14-million dollars.  This is a 72% increase over the funding received by the two individual units five years ago.  Stimulus funding (ARRA) for the two units totaled over $3.1-million, thus the $2.9-million combined growth in 09/10 over 08/09 could have been an anomaly.  The award levels this fiscal year (2010/11) increased close to 13% over the prior year, make it clear that ERI is exceeding the expectations formed during the merge process.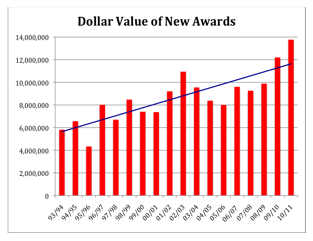 In addition to being the first year as a new ORU, ERI was pleased to welcome the Vernon and Mary Cheadle Center for Biodiversity and Ecological Restoration (CCBER) as part of our unit. CCBER efforts are diverse, supporting education, research, collections management, and ecosystem management, in addition to restoration and conservation. As home to over 350,000 botanical and zoological specimens, collected over the course of over sixty years, CCBER has demonstrated a growing contribution to the research and educational missions of UCSB.  Through classes taught in EEMB, Environmental Studies, Geology, Studio Art, and the Donald Bren School of Environmental Science and Management, CCBER collections play a key role in understanding and documenting biodiversity and in informing public policy on such issues as invasive species, climate change, evolution, and emerging public health threats.
During the next phase of our development, we hope to begin addressing one of the largest concerns indicated by agencies recently - data management.  Prior research efforts by ERI participants have focused on data curation challenges.  Additionally, one ERI PI, Greg Janée, has been working with UCOP over the past year to assist in the UC Curation Center efforts.  We hope to strengthen the ties and collaboration with the Center in order to provide services to our participants and to aid in UC efforts toward addressing these growing federal requirements. 
By all measures, this was an excellent inaugural year – record extramural funding, increasing scientific synergies and stabilization of the administration functions of the two former units, and the move of CCBER into the Institute.  It was a busy and productive year that brought many advances toward ERI goals and I look forward to continued success in 2012.
     David A. Siegel, Director